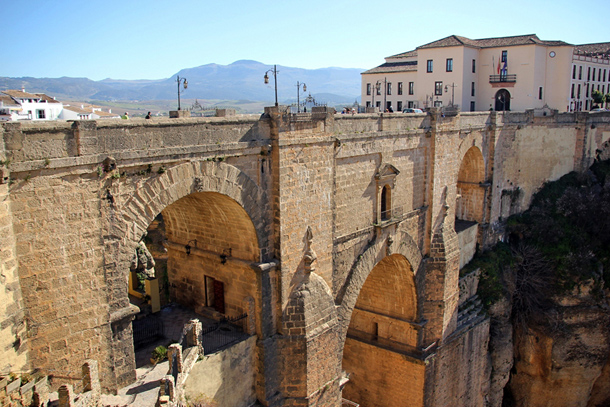 Ronda is just 45 minutes from the Costa del Sol, in sunny southern Spain. But while just 50 miles in distance, it is one million miles in character, the ancient settlement, largely unspoilt and still preserving many of its ancient Moorish and Roman buildings.


While you are just ten minutes to Ronda by car, you are only 15 minutes walk to Arriate, one of the friendliest white-villages of the Serrania de Ronda. Well provided for with a good butcher, greengrocers and supermarkets, it also counts three or four excellent tapas bars.
You can visit some of southern Spain's best restaurants within a short drive.
El Muelle de Arriate is the 'Best restaurant on the Costa del Sol', according to Trip Advisor and just two minutes away in our village. A brilliant, simple, but elegant local restaurant, where Dutchman Frank weaves magic alongside his chef Isa from salt-of-the-earth nearby town Alcala del Valle. Website: www.elmuelle-arriate.com
Or there's Almocobar, a flagship Ronda eatery, that mixes quality local ingredients with authentic charm... all alongside Ronda's famous old Arabic gateway. Address: Plaza Ruedo Alameda, 5, 29400 Ronda, Málaga. Telephone: 952 87 59 77
And not to be missed... the wonders of the chefs at Andalucia's leading rural hotel Molino del Santo, that provides the perfect waterfall setting and food to match. Website: www.molinodelsanto.com
But, to savour the true and traditional Rondeñan feel, visit the tiny bar El Porton. Try the fried quails eggs on Iberican ham set upon mini squares of toast paired with an ice cold fino sherry. Address: Calle Pedro Romero 7, 29400 Ronda, Málaga.
Finally tapas gets no better than former Tragabuches/El Bulli trained Benito's continual changing and improving Tragatapas opposite the famous Ronda bridge. Address: Calle Nueva, 4, 29400 Ronda, Málaga. Telephone: 952 87 72 09 Website: www.tragatapas.com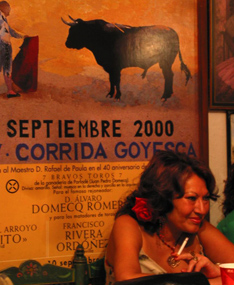 Ronda is home to one of the best-preserved ancient Arabic cores in the world, with a warren of tiny passageways leading to former Moorish palaces and private homes.


On top of that is the much fabled tajo, or gorge, which once made the city almost impenetrable by force and has been hewn out of limestone rock. Being the third most visited town in Andalucia, Ronda has a good selection of shops and entertainment in the form of theatre, flamenco and, even opera, all year round. There is a cinema and English papers arrive by midday. Also nearby are the fascinating white-walled mountain towns of Setenil de las Bodegas and Grazalema, which was once the centre of Spain's wool trade.


Further afield - each around an-hour-and-a-half by car - are the majestic Imperial cities of Seville, Granada, Cordoba, Jerez and Malaga. The five crucibles of Spanish culture and history are easily reached by car and Granada and Malaga are easily reached by train. Walks go straight from the door, with half a dozen itineries already mapped out for guests, while some of Spain's best hikes through the Sierra de las Nieves and Grazalema natural parks begin less than half an hour away by car.

Mountain bikes can be hired and other local activities includes ballooning, quad-biking and riding.

VISIT:
Entrelenguas: Spanish Courses | Sustainable Tourism | Cultural Events - Download PDF (2Mb)




>> Click thumbnail images for larger photographs