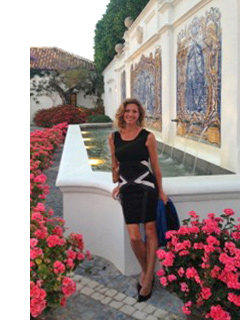 For booking and further information contact:


Gabriella Chidgey
La Alcantarilla
Buzon 13
Urb. Cayetano Arroyo
29350 Arriate
Malaga
Spain


Telephone: +34 654 152 122


Email: laalcantarillaronda@gmail.com
Owner profile: Gabriella Chidgey


I am a London-born figurative and landscape painter (www.gabriellachidgey.com), living in Ronda, Andalucia.

Originally a Cambridge University History/Art History graduate I then took the less common path of training at Rambert Dance School to become a contemporary dancer.

Following a stint working in Cape Town, I returned to London to dance, choreograph and facilitate workshops for people with learning difficulties.

Torn discs in my back ultimately brought this ten year era of my life to a close, so with a fervent desire to paint and my husband to write a book, we packed the car and drove to Spain for a six-month adventure.

We hoped to buy and renovate an old house to escape to for holidays.

And after a year, we did find an abandoned walnut and apple farm with two houses that was perfect for restoration.

Only we soon discovered that our holidays were actually in London and that La Alcantarilla had become our home.

Twelve years and two children later we still live here, although one of the houses has become Casa Maia, a holiday home for other people seeking the warmth and beauty of Andalucia.

This amazing landscape has inspired me to paint, garden and even to run. Injury free, I can explore the countryside running through its valleys and hills.

Its beauty and the quality of the light, the fresh food, the people and music of this region have helped to heal my back.

But I am also indebted to Yoga and Pilates for their role in a recovery that has finally brought me back to dance and the discovery of Tango.

So La Alcantarilla offers workshops with all the disciplines and teachers that I hold in high regard and we hold events so that guests can revel in the surroundings and be uplifted by the music and dance performances.

I look forward to your visit.