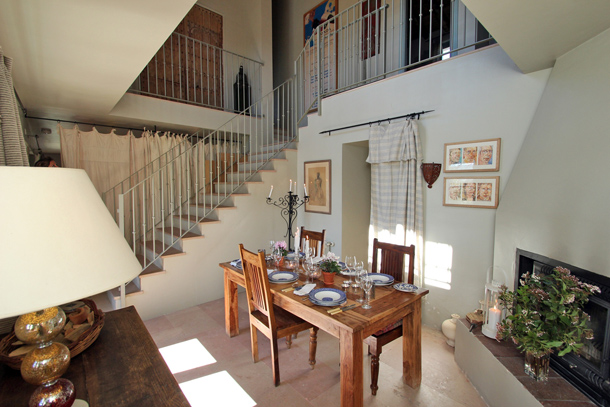 Alfredo, the West Wing of La Alcantarilla, sits by a river with wonderful views towards distant mountains.

The entrance to Alfredo is through double glass doors from a wisteria-clad covered terrace.

The oak table and pine settle provide a perfect breakfast area, and behind this is a large fully equipped kitchen with granite surfaces and painted wooden drawers and cupboards.

There is a fridge/freezer, additional drinks fridge, two sinks, a 90cm Smeg range oven with five ring gas hob, microwave, dish washer, hand held blender and electric citrus juicer.

The sitting room has a large open fire place, television with UK Free to View and Spanish Canal Plus for sport and films. There is also a DVD player, a CD player and library of both film, box sets and CDs. The speaker system also accommodates iPods, iPhones, iPads and MP3 players.

There are two three-seater sofas and a wing armchair.

The double doors open out onto a cobbled south facing terrace.

The stairs ascend between the sitting and dining room, which is set in the lower part of a double height space. There is a log burning stove and olive wood dining table which seats eight. Double glass doors open onto the south facing terrace.

Behind the dining room is an area to hang coats, and a laundry with washing machine, dryer, and trunk freezer.

There is also a downstairs lavatory and marble tiled shower.

» Click thumbnail images for larger photographs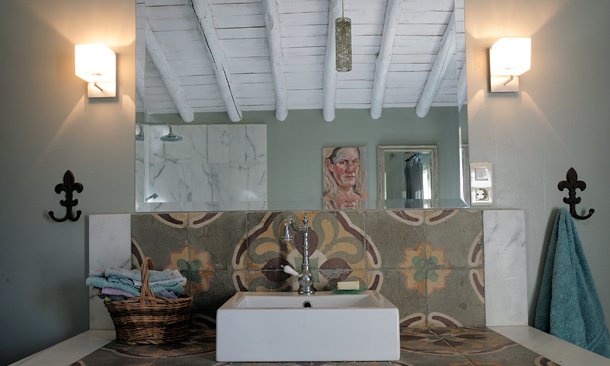 The staircase leads up into a gallery area overlooking the dining room, where a pine desk, carver chairs and a wardrobe full of books on Spain and gardening can be found.

Double doors lead out onto a balcony from which the full two hectares of Alcantarilla land can be viewed, as can the city of Ronda on a nearby hill.

Turn left at the top of the stairs and climb a couple of steps to the master bedroom which you enter from the left, the master bathroom straight ahead and a twin bedroom to your right.

The master bedroom and bathroom open onto a stunning terrace with views of the Grazalema mountains and a beautiful old cortijo complete with a dove filled tower. The master bedroom has a two metre squared iron four-poster bed, fitted wardrobe spaces, and a wall of windows and doors onto the terrace.

The bathroom has an open shower and a bath with views across the mountains. The floor and shower surrounds are white and travertine marble. The washbasin sits upon old patterned hydraulic tiles.

The adjacent twin bedroom has a wardrobe, coat stand and nursing chair and mirrors.

From the gallery a twin bedroom, with wardrobe, chair and mirror can be accessed. This has an antique shutter onto the gallery. Alongside is an aqua-tiled bathroom with a lavatory, and bath with shower attachment. The sink is set in travertine marble.

Leaving the gallery through a curtained opening is the entrance to the second double bedroom. Here there is a king size bed with rattan surround, and a blue velvet sofa. Two sets of balcony doors open onto the south facing garden, and below lies the cobbled terrace. There is a wardrobe, long mirror, changing table with chest of drawers and bookshelves.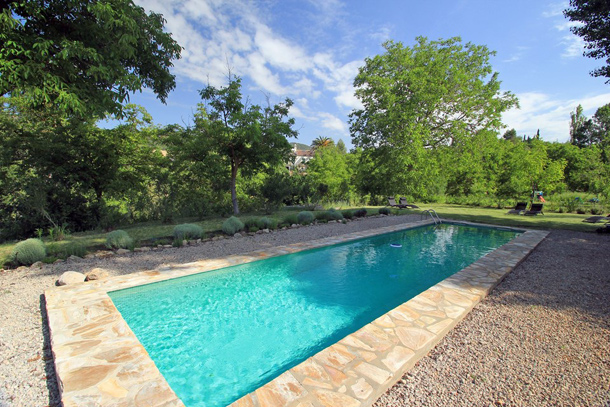 Alfredo has both a covered dining area with a long weathered wooden table and a cobbled terrace shaded by a pergola.

The covered terrace is west facing and the cobbled terrace south facing. There is sunlight throughout the day, however, always enough shade for the heat of sumer, since the house is protected by mature walnut, fig and acacia trees.

The house and pergolas are bedecked with wisteria, jasmine and honeysuckle.

Behind the casita on the main terrace is an area covered with floor and scatter cushions for relaxing. And from this corner are steps down onto a lawn which curves around the house ending below the covered terrace.

Beyond the lawn, paths take you either to the old terraces planted with new fig and apple trees, down to the stream past ancient olives and spring flowering iris or through the herb and rose beds to a gate leading out towards the orchards and the swimming pool.

Across a stone bridge and only a couple of minutes stroll away is the 11 metre saltwater swimming pool encircled by a lawn and flower beds. This is shared with Maia and set in an acre of orchard.

Predominantly an apple and walnut smallholding, there are also numerous quince, pear and sharon fruit trees as well.

On the approach to the pool there are swings, climbing frames for very young children and a badminton set for all the family. At the other end of the land a moorish aqueduct can just be seen nestling among the quince trees and bamboo-lined stream.  

Alfredo is only available during July and August
(price per week)
2000 euros